Our Story
The Story of Us
In the summer of 2014, Sarah and Chris met at the Boston University Tanglewood Institute. They were notorious for their fast walking ability to get to Boston Symphony Orchestra concerts, and they'd often separate from their friends just chatting away while heading to concerts. Sometimes they'd turn around and their friend group would be lengths behind them!
That summer started a beautiful, yet platonic, friendship that spanned over the next three years! Never did a birthday or holiday go by that they didn't touch base, as they went through college in separate states, with him at Boston University studying classical saxophone and her at University of North Carolina School of the Arts (UNCSA) studying orchestral flute.
On Chris's 21st birthday, (March 7, 2017) Sarah reached out to Chris to wish him a happy birthday, and they caught up -- Chris had spent the previous semester studying abroad in London, and Sarah had just returned from Germany after performing in a chamber music series with fellow UNCSA faculty. It became clear that there was something more there and soon, Chris offered to come visit Sarah in Winston-Salem, North Carolina at UNCSA. Their first date, labeled by Sarah as a "bang bang" (eating 2 full meals in a row), was sushi followed by tacos and finally, Sarah's favorite, cheesecake! He asked her to "officially" be his girlfriend on April 28, 2017.
When you know, you know. They knew.
There is nothing romantic about late nights spent on the phone or falling asleep while FaceTiming, but both Chris and Sarah were confident in how long-term this relationship felt, no matter the distance and no matter where life took them. They'd often have "Rabbit dates" (the online site where you could stream videos as well as video chat) with trashy takeout and a cheesy rom-com -- most notorious were their nights of Chinese food, burgers and fries, or full pizzas. Have you met Chris? Of course he can finish a large pizza from Dominos on his own! Chris also introduced Sarah to Friends, and if you know anything about Sarah (and Chris too), you know she can -almost- quote this show start to finish. They visited each other often, at their respective universities -- there were many a winery/brewery tour, laser tag afternoons, shopping adventures, and yummy evening outings! It was always impossible to part ways after a trip seeing each other, but there was an understood "until next time" behind every goodbye.
When Sarah and Chris began going through the graduate school application process, there came the question, "Where next? How do we do this?". There was never a question of whether it would work or not -- they'd do whatever it took to make it work, but they also both knew they had different top choice graduate programs. How could they face another two years a thousand miles apart?
Lo and behold, when it came time to make a decision, it was Northwestern University that was the best choice for BOTH of them! Go cats!
Both Sarah and Chris had a very emotionally, mentally, and physically difficult first year of their master's. In coming through one of the hardest years of their lives together, they only grew in the strength of their relationship and their love for each other. There was no doubt that they wanted to spend the rest of their lives together.
The Proposal (Spoiler alert: She said yes!)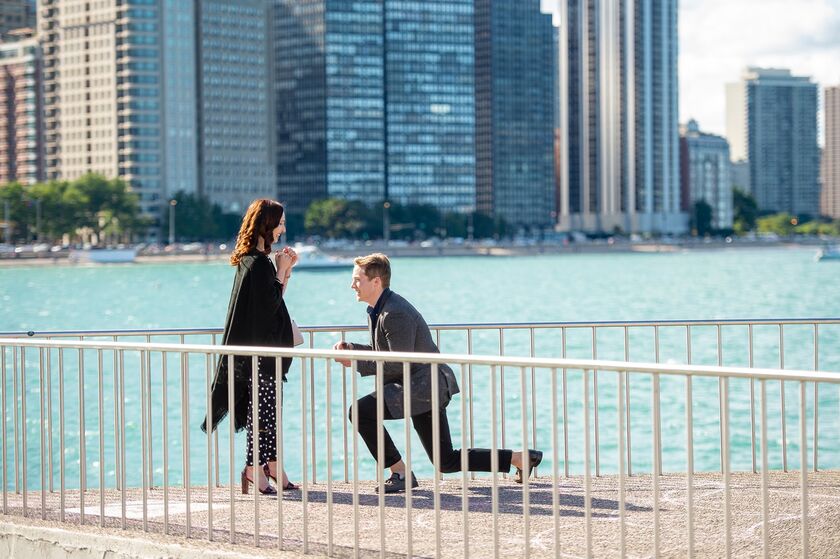 On Memorial Day, 2019, Chris pulled Sarah's mom, Kathy, aside following a small flute/harp recital that Sarah gave, as Kathy was trying to get on the road back to Memphis, to ask for her blessing to ask Sarah to be his wife. She pulled Chris into a tight embrace and told him that he had her blessing.
Later on into her drive back to Memphis, Kathy called Chris to tell her that she still had her grandmother's engagement ring, with a beautiful diamond ring. She offered it to Chris to use for Sarah's engagement ring. Chris graciously said, "Sarah would love that."
Somehow, Sarah didn't have the slightest inkling about this plan for Chris to propose to Sarah with her great grandmother's stone. He worked with a local jeweler to find the perfect setting, and perfect it was!
On August 23, 2019, Sarah and Chris were set to recreate their first date in downtown, Chicago. However, they got downtown a little early, and Chris suggested a small walk into a park near Navy Pier. Chris was so nervous! Sarah sensed how anxious he was and how quickly he was walking. They walked into the park and the park had a ledge that opened up to view the skyline. Chris and Sarah walked onto the open ledge, and Chris got down on one knee! Sarah immediately started crying and said yes, of course! When Chris told her that the ring had the stone of her great grandmother's ring in it, she started WEEPING! They enjoyed the privacy of their amazing news (telling their closest friends and family) for 24 hours, and then released it to the world. Here we are!
We cannot wait to start the next chapter of life. Thank you so much for being a part of this day and for your love and support. We couldn't be happier and more grateful for all of our dearest family and friends being a part of this special day!
The Wedding
Ceremony
Providence Vineyard
11510 Vanderkarr Road, Hebron, IL, 60034, United States
Reception
Providence Vineyard